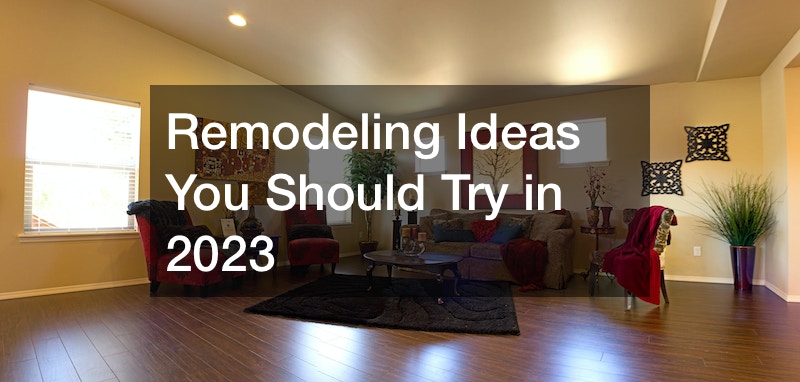 Remodeling Ideas You Should Try in 2023
November 21, 2022

It's time to start thinking of how you'll bring your home into the future with a home remodel. Fortunately, we already have an idea of the most popular home remodeling concepts of 2023. Here are 9 of the best home remodeling ideas to improve home value.

1. Repaint Rooms
One of the simplest and inexpensive home remodeling ideas to improve home value is repainting it. A HomeGain study found that painting the inside yields a 107 percent return on investment (ROI). When repainting, go for neutral colors. Neutral colors work with almost anything, making it simpler for prospective buyers to picture themselves living there. Buyers don't want to spend more money on painting after closing. Painting small spaces with a lighter or pastel hue can make them seem larger. The walls and trim can also be painted the same color to give the impression of more space. If you'd like to make a large room feel smaller and cozier, use a warmer or darker hue. Lighter, neutral colors typically make for better photographs as they make a room feel brighter.
The contents of paint go beyond color. Different sheens and finishes have a major impact on how a paint color pops, how simple it's to clean your wall, and other aspects. On large walls, avoid satin sheens. Satin highlights nail pops and unevenness more than flat or eggshell sheens do.
For durability and stain resistance, satins and semi-gloss coatings are preferable. Semi-glosses on the doors and trims make cleaning dust and handprints easier. Price is often a reliable measure of quality. Don't hesitate to spend a few extra bucks on premium paint, or at the very least something mid-tier. A cheap low-quality paint may require more coats and won't be even. Professional painting contractors recommend using eggshell or semi-gloss in bathrooms, where moisture can be an issue. Remember to have the trim and ceiling painted, not just the walls.
2. Get a New Roof
Getting a new roof is one of the best home remodeling ideas to improve home value. New roofs can be pricey, but they make up for this by increasing the value of your home. A new roof installation will instantly boost your home's curb appeal and will last for years to come.
Excellent curb appeal doesn't have a measurable price tag, but it's as valuable as word of mouth. Despite being a costly purchase, a new roof is a wise investment. This investment can result in a return of up to 68%. Due to variables such as geography, the real estate market in the area, and current market trends, accurately determining the return on investment (ROI) can be challenging. However, you can generally get a return of close to 70%.
If you don't plan on selling your home, think about the increased energy efficiency you'll get to enjoy. In fact, one of the main reasons homeowners decide to have a new roof installed is to improve their home's energy efficiency. Asphalt shingles can reduce the temperature of your roof's surface by up to 50 degrees. This can significantly improve the efficiency of your air conditioning. Because of making such an environmentally friendly upgrade, you can also qualify for tax benefits. Getting a new roof also means your home will get an upgraded layer of protection that ensures everything below it is safe and sound.
32% of real estate agents in the Remodeling Impact Report stated that a homeowner who had a new roof installed said it helped close their house. With a longer warranty, improved curb appeal, newer shingles, and improved energy efficiency, you'll undoubtedly attract a lot of potential buyers. If you're on the fence about undertaking this project, consider how easier it will be to sell your home.

3. Install New Cabinets
Installing new cabinets is also one of the best home remodeling ideas to improve home value. New kitchen cabinetry not only increases the value of your home but also simplifies daily living for you. However, installing new cabinets shouldn't be an impulse decision. While cabinets are a necessary component of your kitchen, they can be pricey. To justify getting new cabinets, consider these reasons. Over the years, you have probably accumulated a lot of stuff, and soon, you'll likely run out of storage. Getting rid of things you don't actually need or use is the obvious solution, but this isn't always possible. The next best option is to install extra cabinets.
Fortunately, you might not even need to replace the outdated ones. Mixing and matching is currently trending. Most older kitchens had basic layouts as there were fewer items to store and use. Today, most people use three or more gadgets on a regular basis that most people had never even heard of just two decades ago. More items need to be stored and accommodated as a result. Even if you can make do with the storage space you currently have, placement may be an issue. Some cabinet installations may be positioned too high, too low, or both. You may need to revise the layout of the cabinets, and maybe remove most of them. A number of cabinet makers offer storage solutions that allow one to store their appliances within easy reach while maximizing the available space.
4. Install New Countertops
Installing new cabinets is one of the best home remodeling ideas to improve home value. If you intend to live in your home, the addition of new countertops to your kitchen will improve its functionality and visual appeal. If you're thinking about selling, new countertops offer several advantages. These include enhancing your home's curb appeal, drawing more interested parties to your listing, and attracting a decent return on investment. Other options for increasing the return on investment of your new countertops include choosing neutral colors. The most popular and safest neutral color options for countertops are black, gray, or brown color variations.
More potential buyers will be drawn to a neutral color scheme, which also boosts potential ROI. If your cabinets are of a lighter shade, a black or dark gray palette will create an interesting modern contrast. Darker cabinets, on the other hand, look fantastic with light beige, cream, or gray counters.
Should you decide to invest in real stone, always view it as a whole slab to ensure that you're getting precisely what you ordered. Visualizing a vast countertop from a small stone sample can be difficult. Confirm if it has the movement you're looking for and if it's free from defects. Like all natural stones, granite is porous and sensitive to staining. A granite slab with a less intricate design and a darker tone will age less noticeably. Seal your granite every year with a quality penetrating sealant to prevent stains. Always work with professional contractors to ensure your custom countertop designs come alive in the best possible design.

5. Get Energy-Efficient Windows
Installing energy-efficient windows is one of the best home remodeling ideas to improve home value. If you've noticed air drafts near closed windows and higher energy bills, your windows are probably leaking air, and window replacement may be necessary. Energy costs can rise considerably as a result of this energy inefficiency. One recent survey found that 56% of prospective homeowners considered energy efficiency to be extremely important when making a new purchase. Other than energy-efficient insulation and HVAC equipment, windows have a major impact on your monthly energy bills. Double-paned or Energy Star-certified windows are a wonderful choice for energy efficiency. According to the US Department of Energy, using windows with an ENERGY STAR rating allows the typical family to save between $125 and $465 annually.
The installation cost of energy-efficient windows ranges from $279 to $800 per unit, which makes replacing your complete set of windows a significant financial commitment. Considering how expensive energy-efficient windows are, first have an energy audit done to explore their potential energy savings. Energy consultants will evaluate all of the energy efficiency upgrades available to you and rank them according to which will provide the greatest return on investment.
6. Repair Your Garage Door
Repairing your garage door is another best home remodeling ideas to improve home value. The garage is a crucial component of any home. It not only keeps your cars secure, but most homes also use them as the main entry. A garage door prevents intruders from making their way into your garage and guarantees the security of both your home and automobile. Garage doors are subjected to significant wear and tear as they're constantly being opened and closed. This makes regular inspection and repair extremely important. A garage door that hasn't been properly maintained poses a serious safety hazard for you, your automobile, and your loved ones' safety. In case of damage, have your garage door fixed by a garage door repair company as soon as possible to avoid compromising on safety.

7. Install a Privacy Fence
Installing a privacy fence is also one of the best home remodeling ideas to improve home value. Your home's worth is probably going to increase by around $6,000 if you add a $10,000 fence. Another advantage of installing a fence is that it will make your property look cleaner and more valuable, and can improve its curb appeal. A fence creates a distinct boundary between your property and your neighbors, making it a practical way of increasing your home's value.
Fencing also improves the security of your home. Most individuals seeking to purchase a home have either dogs or children, and some have both. With a privacy fence, your pets and kids can safely and freely play in the yard without having to worry about wandering off or being exposed to ill-intended strangers. Should you decide to have a privacy fence installed, get quotes from multiple wood fence companies to get the best deal.
8. Get New Flooring
Having new flooring installed is among the best home remodeling ideas to improve home value. Flooring can make or break a sale. If your flooring looks aged, you're considerably less likely to receive a competitive offer. Brand new, easy-to-maintain flooring, on the other hand, attracts serious potential buyers. Therefore, ensure that the flooring solutions you select will provide the most value for your home. Choosing the best flooring solution for your home can be difficult since there are so many options available. To get the right fit for your space, consult local hardwood flooring services.
9. Improve Your Property's Landscape
When it comes to home remodeling ideas to improve home value, homeowners are often told to focus on the interiors. You may be told to give your walls a fresh coat of paint or declutter that corner of your home that looks like a great feature for an episode of Hoarders. However, the quality of your landscape is equally, if not more, important.
Improving your property's landscape is one of the most overlooked home remodeling ideas to improve home value. The value of your house can increase by tens of thousands of dollars if the landscape is well-maintained. It's really one of the few home renovations you can make that will not only add value to it immediately but also as the years go by. Plants become fuller and more resilient over time. However, interior design and décor trends are constantly changing. First impressions matter, and when a buyer lays their eyes on your property for the first time, how well-maintained your landscape is speaks of what to expect from the rest of the property. To make the most out of your landscape, work with a professional landscaping service.
Even if you adore your home, there'll inevitably be a spot you feel could use a little more TLC. Incorporate these home remodeling ideas to improve home value and also get a higher return on your investment. For the best results, work with professional remodeling contractors. They understand what it takes to remodel your home and keep it looking as good as new. So, in 2023, feel free to try out various remodeling ideas, and don't be afraid to venture beyond the established norms in your quest for the perfect home.
Related Posts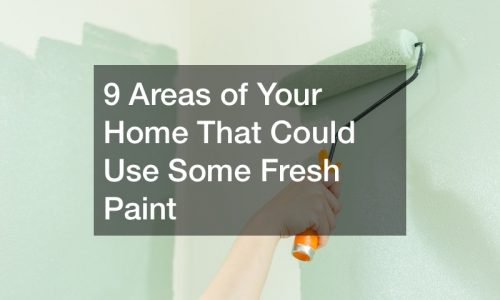 October 2, 2023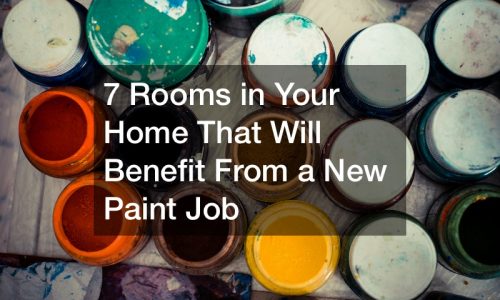 September 18, 2023